5 ESSENTIAL SPACES
Looking to reimagine and redesign your learning environments?
The 5 ESSENTIAL SPACES offer a coherent model for individuals and organizations alike to take a fresh look at learning spaces.
Learning space redesign engages learners and educators in new ways.
It enhances collaboration

It fosters creativity

It boosts thinking and makes it visible

It empowers educators to teach in the way they want and need to
Find our more about each ESSENTIAL SPACE and how it can enrich your environment here.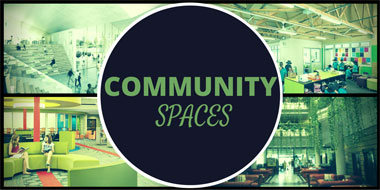 Community spaces are the centerpiece of learning environments. These spaces are used most frequently in classrooms today as students collaborate and confer throughout their learning. Community spaces should welcome learners in and be flexible in that they can accommodate various types of community functions (large or small group work, round table discussions etc). One of the factors in developing community spaces is the importance of flexibility. Chairs and tables that are either light enough to move easily or have wheels are ideal for these spaces. While looking to enhance collaboration, writable table top surface are an excellent way to encourage students to share their ideas in broad strokes.
Despite the fact that 21st century teaching has moved away for a lecture/ keynote model, presentations are still a significant part of the educational fabric in any learning space. Presentation spaces are important for students to be able to share and celebrate their learning with the classroom community. Incorporating flexible seating can assure that presentation spaces remain part of your room but not the focal point.  Many educators today have tried to move away from a 'front of the room' model, but having an area which can at times be deemed a stage is still important.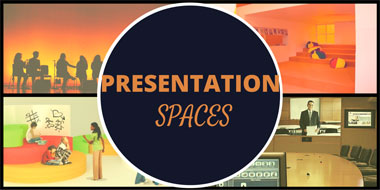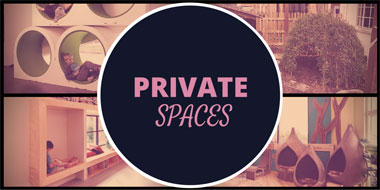 Private spaces are a key region within an classroom environment. These types of spaces can be achieved in a variety of ways but serve a similar function. These spaces allow for quiet concentration, something a myriad of learners need for various reasons. These spaces are often enclosed or provide a sense of warmth. With careful organization teachers can create simple and flexible private spaces.
Display spaces need to be student directed and accessible. Students need to take responsibility for posting and showcasing their thinking. Using interactive displays allows students to not only share their knowledge but also to sort, organize and connect new information to older ideas. Working alongside their peers, students co-construct understanding in an environment that supports a culture of thinking. Display spaces can include cork boards, fabric display boards, pinable fabric walls or larger panels, windows, and large whiteboards. Display spaces can spill out of the traditional classroom's four walls and pop up anywhere!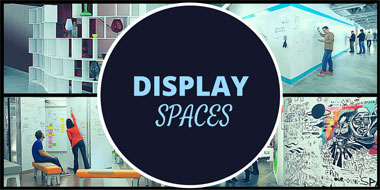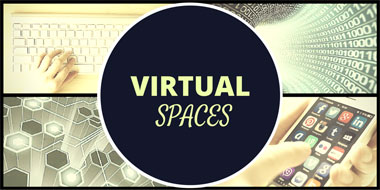 The hallmark of any 21st century classroom is the seamless integration of technology. Whether your classroom is a 1:1 space, a 'bring your own device' space or a flipped classroom, technology plays a major role in your students' lives and learning. Virtual spaces developed by educators further enhance the physical spaces in the classroom whilst also allowing students access to educational spaces outside the the classroom.