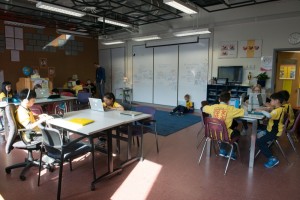 Having students take ownership of their learning space is crucial in assuring that dynamic environments are used to their full potential. When I overhauled my classroom in August 2013, I made exploring physical space a priority during our two week opening unit, 'Learning to Learn'.
Students explored the new spaces created in the room and learned how to interact with them respectfully. Students also developed rules and protocol for each of the designated sections of the room. In turn, we spent a great deal of time exploring how body positions affect learning. We developed questions to guide our understanding of space:
What body positions are best for collaboration? (sitting or standing)
Is proximity important?
Do I like to wiggle while I listen?
What's the best position for me to be in to complete independent work?
Do I work well with my friends?
These types of questions helped to educate the students about their own learning styles and the ramifications of space on their educational experience.
The understanding of the effect of space on learning has been a year long process where students have met to reflect on their needs of the space. The students even added their own new components to our classroom space (fish tank, removing tables etc), rationalizing the decision based on learning practice.
Now, as this year long learning spaces experiment is coming to a head, with a whole school proposal in development we will meet with a team of student representatives from Grade 3 through 5. Students will fill out a survey about what they envision their learning environment to be. Students are very excited about the opportunity to provide feedback regarding what their classrooms do look like and what they should look like.
We have even charged kids in Grade 4 to develop their own ideal learning space. Students can choose to make the environment from a series of platforms including Minecraft, Lego, a diorama or a bird's eye view sketch. The project was assigned for two weeks with some students completing the task in a night! Needless to say they are excited about the potential of these new learning spaces.
Examples of Student designed Learning Spaces
Diagram and Explanation Video Room 1